Department of Health HBN's & HTM's
Show me:
Planning for a resilient healthcare estate 2014 ed
Health building note HBN 00-07 Core elements
Corporate Author:

Great Britain Department of Health Estates and Facilities Division

Publisher:

TSO (The Stationery Office)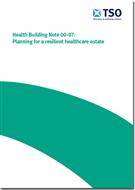 Add to Basket
This HBN provides guidance for NHS-funded providers on designing and planning for a resilient healthcare estate. It aims to help NHS-funded providers to determine appropriate levels of resilience for sites, buildings and installations against a wide range of emergencies, hazards and threats and their impacts and consequences including resilience to the impacts of climate change. This document focuses on: the strategic approach to resilience planning for healthcare estates; procuring resilient healthcare estates; design and planning considerations for a resilient healthcare estate; resilience of building services engineering.
Find similar publications here: