Department of Health HBN's & HTM's
Show me:
Facilities for primary and community care services
Health building note HBN 11-01 Community care
Corporate Author:

Department of Health Estates and Facilities Division

Publisher:

TSO (The Stationery Office)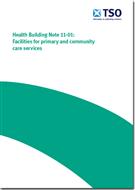 Add to Basket
This document provides best practice guidance on the selection and zoning of facilities for delivering primary and community care services. The guidance is applicable to the following building types: GP premises; Health centres; Primary care centres; Resource centres; Urgent care centres (including walk-in centres and minor injuries units); Community hospitals (also known as intermediate care hospitals). It describes the following: the range of services that may be delivered from primary and community care buildings; the types of space needed to deliver these services (many of which are generic); the way to quantify these spaces for briefing purposes; the way spaces can be organised into zones to create efficient, flexible, user-friendly environments.
Find similar publications here: