Department of Health HBN's & HTM's
Show me:
Infection control in the built environment
Health building note HBN 00-09 Core elements
Corporate Author:

Department of Health Estates and Facilities Division

Publisher:

TSO (The Stationery Office)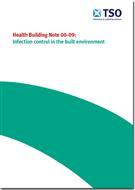 Add to Basket
This HBN supersedes and replaces all versions of Health Facilities Note 30 (HFN30). It discusses the various stages of a capital build project from initial concept through to postproject evaluation and highlights the major infection prevention and control (IPC) issues and risks that need to be addressed at each particular stage to achieve designed-in IPC. The principles of this guidance can be applied to all healthcare facilities, mental health settings are included. The most important points raised by the document are the need: for an awareness of appropriate Health Building Notes and Health Technical Memoranda pertinent to new build or refurbishment projects; for timely, comprehensive and collaborative partnership between all parties to achieve IPC goals specific to each construction project; for all stakeholders to understand the basic principles of 'designed-in' IPC; to understand and assess the risks of infection relating to construction projects and the physical environment; for robust project management in relation to IPC considerations for all new-build and refurbishment projects; for a system of signing-off plans and meeting notes to include all participating parties including the IPC team; for quality control throughout the duration of the construction project; to regularly consult with and update all relevant parties throughout the project; to continually monitor developments.
Find similar publications here: