Department of Health HBN's & HTM's
Show me:
Circulation and communication spaces
Health building note HBN 00-04 Core elements
Corporate Author:

Department of Health Estates and Facilities Division

Publisher:

TSO (The Stationery Office)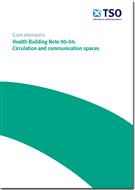 Add to Basket
Circulation spaces provide access within hospital departments whereas communication spaces provide access between departments and may include mainhospital streets. This document provides guidance on the design of circulation and communication spaces in hospitals and other healthcare buildings, including corridors, internal lobbies and stairs, and lifts. It also provides supporting information on doors and handrails. The spaces described allow for the movement of ambulant and semi-ambulant people (including those using crutches, sticks and walking frames) and wheelchair users. Requirements for bed and patient trolley movement are also described. The guidance is based on ergonomic research, including a study that investigated space requirements for bed movement along corridors and through doors.In places, the guidance differs from that provided in Approved Document M (2013) and BS 8300:2009 +A1:2010. Where this is the case, the reasons for the variations are discussed.
Find similar publications here: