Department of Health HBN's & HTM's
Show me:
Bedhead services
Health technical memorandum HTM 08-03 Specialist services
Corporate Author:

Department of Health Estates and Facilities Division

Publisher:

TSO (The Stationery Office)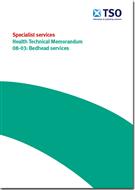 Add to Basket
Bed spaces and their environment have a significant impact upon patient experience and delivery of care. With patients able to choose their provider of healthcare service and the increased complexity of clinical techniques and procedures provided at bed spaces, it is now even more important to ensure that bedhead facilities are fit-for-purpose in all respects. This guidance covers the management policy for, operational management of, and design considerations for bedhead services. It applies to the range of engineering services and equipment provided at in-patient areas and bed spaces within healthcare premises. Other systems (such as intruder or personal attack alarms), although not strictly part of a bedhead unit or used at the bed space, are included within the scope of this document by way of their interaction with other bedhead-service systems.