Department of Health HBN's & HTM's
Show me:
Operational provisions manual: Part M Fire safety in atria
Corporate Author:

Great Britain Stationery Office

Publisher:

TSO (The Stationery Office)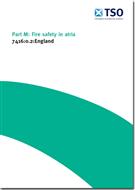 Add to Basket
This manual sets out recommendations and guidance for fire safety of atria in healthcare buildings. It should not be quoted as if it were a specification, and any claims of compliance should be carefully examined to ensure they are notmisleading. It is intended to assist in determining the appropriate fire-safety measures to be applied to atria in healthcare premises, including those in the acute and primary care sectors. This guidance recognises the special requirements of fire precautions in the design of atria within healthcare premises and should allow the current statutoryregulations to be applied sensibly within a framework of understanding.
Find similar publications here: