Department of Health HBN's & HTM's
Show me:
Operational provisions manual: Part K Guidance on fire risk assessments in complex healthcare premises
Corporate Author:

Great Britain Stationery Office

Publisher:

TSO (The Stationery Office)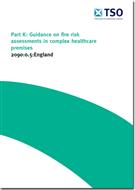 Add to Basket
This manual provides guidance on fire risk assessments in complex NHS healthcare premises. It is supplementary to the guidance in the "FSO Green Guide" (Department for Communities and Local Government (2006)) and supersedes the guidance contained in Health Technical Memorandum 86 - 'Fire risk assessment in hospitals' and 'Fire risk assessments in Nucleus hospitals'. Fire risk assessments using the guidance in this manual are required by the Regulatory Reform (Fire Safety) Order 2005, which came into effect on 1 October 2006. The guidance in this manual can be used to: review, revise and update an existing fire risk assessment; or undertake a fire risk assessment for healthcare premises for the first time.
Find similar publications here: