Department of Health HBN's & HTM's
Show me:
Operational provisions manual: Part F Arson prevention in NHS premises
Corporate Author:

Great Britain Stationery Office

Publisher:

TSO (The Stationery Office)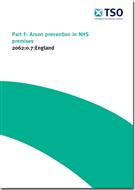 Add to Basket
This manual provides guidance on the additional fire and other precautions that may be adopted to prevent, detect and reduce arson in NHS premises. It complements and should be read in conjunction with the rest of the Firecode suite of manuals, and in particular Firecode Operational provisions manual Part K: 'Guidance on fire risk assessments in complex healthcare premises'. Much of the guidance is intended to prevent life-threatening fires occurring in the clinical areas of hospitals. The principles apply equally to all parts of healthcare premises where the act of intentionally setting them or their contents on fire would pose serious threats to life, undermine their strategic importance and effectiveness, create large-scale disruption to services or incur significant financial loss. The recommendations of this manual should be considered at an early stage during the planning and design of new hospitals and healthcare premises or major.
Find similar publications here: