Department of Health HBN's & HTM's
Show me:
Health Building Note 10-02: Day Surgery Facilities
Surgery
Author:

Department of Health

Publisher:

TSO (The Stationery Office)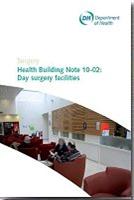 Add to Basket
This publication sets out guidance on facilities required for a day surgery unit located within either an acute hospital or a treatment centre. It replaces Health Building Note (HBN) 52 'Accommodation for Day Care - Volume 1: Day Surgery Unit' (ISBN 9780113214235) and takes account of the significant changes that have taken place in service delivery, including the introduction of admission suites and discharge lounges where patients can wait in comfort before and after surgery.
It is recommended that day surgery operating theatres meet the same standards as in-patient operating theatres. This guidance describes facilities designed to serve a population of 300,000 with provision for four operating theatres and associated accommodation and it also includes guidance on facilities for staff rest, changing, and associated accommodation.
Find similar publications here: