Department of Health HBN's & HTM's
Show me:
Health Technical Memorandum 05-03: Operational Provisions – Part B: Fire Detection and Alarm Systems
Firecode – Fire Safety in the NHS
Author:

Department of Health

Publisher:

TSO (The Stationery Office)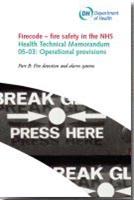 Add to Basket
This Firecode document provides guidance on the design and installation of new fire detection and alarm systems in NHS healthcare premises. It is intended to supplement 'BS 5839-1:2002 Fire Detection and Alarm Systems for Buildings: Code of Practice for System Design, Installation, Commissioning and Maintenance' (ISBN 0580403769, available below) by providing recommendations specific to NHS healthcare premises.
This document should also be read in conjunction with Health Technical Memorandum 05-03 'Part H: Reducing Unwanted Fire Signals in Healthcare Premises' (ISBN 0113227647, available below). The document covers a wide range of alarm and detection technology, from conventional systems to multi-sensor detectors in addressable systems.