Department of Health HBN's & HTM's
Show me:
HBN 12: Out-patients Department
Author:

NHS Estates

Publisher:

TSO (The Stationery Office)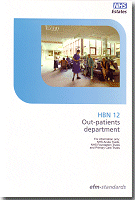 Add to Basket
This Health Building Note addresses the planning and design of out-patient accommodation. The guidance is principally for use in connection with departments that are attached to, or form part of, an acute hospital or treatment centre, although the advice will be equally relevant to facilities provided elsewhere.
The out-patients department (OPD) is the "shop-window" of the hospital. It is one of the departments everyone is likely to visit at least once, and the initial impression, of both the building and its organisation, is likely to remain.
The organisation of large numbers of people attending an OPD in an acute hospital is a complex operational and logistical challenge. A priority in this guidance is how best to address this, while ensuring an accessible, high-quality, patient-centred environment.
Key Features:
Schedules of accommodation are provided in the HBN for three sizes of department, that is, having 6,12 and 18 C/E rooms with a full range of supporting accommodation.Significant changes since the previous edition of this guidance are detailed in the introductory pages.
Find similar publications here: