Department of Health HBN's & HTM's
Show me:
Hospital accommodation for children and young people [Revised ed.]
Health building note HBN 23
Corporate Author:

NHS Estates

Publisher:

TSO (The Stationery Office)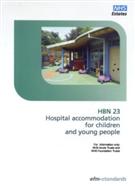 Add to Basket
This publication sets out best practice guidance on the design of healthcare facilities for children and adolescents, with the aim of creating a child-centred built environment. It is primarily intended for new-builds and upgrades of existing childrens facilities. Central considerations are alleviating fear and anxiety, maximising security and safety, reducing boredom, and creating a healing environment. Facilities should also cater for parents and siblings. Issues discussed include: general functional and design considerations, including patient groups, capacity planning, space, access and security requirements, play facilities and privacy aspects; design of specific service areas, including reception, out-patient and in-patient facilities; engineering services; and cost information.
Find similar publications here: