Supply Chain
Show me:
Environmental Management Systems. Requirements with Guidance for Use
BS EN ISO14001:2004
Author:

British Standards Institution (BSI)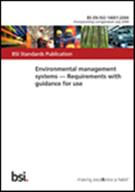 Add to Basket
BS EN ISO 14001 is the international standard to help your business with environmental management systems.
It gives your business an outline of how to meet its environmental policy and objectives. Use the standard to implement an environmental management system from scratch or improve on your existing one.
BS EN ISO 14001 is useful for all types and sizes of organization. It also takes account of diverse geographical, cultural and social conditions that may exist in your business.
What can BS EN ISO 14001 do for me?
BS EN ISO 14001 will help your business to control the environmental impacts of activities, products and services.
BS EN ISO 14001 is useful to any business that wants to:
Implement, maintain and improve an environmental management system

Assure itself and others of its conformance with its stated environmental policy

Seek certification/registration of its environmental management system by an external organization

Make a self-declaration of conformance with this international standard.
How do I use BS EN ISO 14001?
BS EN ISO 14001 includes an easy step by step plan-do-check-act method:
Plan: Establish the objectives and processes necessary to deliver results in accordance your organization's environmental policy

Do: Implement the processes

Check: Monitor and measure processes against your environmental policy, objectives, targets, legal and other requirements, and report the results

Act: Take actions to continually improve performance of your environmental management system.
All the requirements in this standard can be built-in to any environmental management system. This standard does not include specific environmental performance criteria as this will change from business to business.
Does BS EN ISO 14001 fit in with any other management system?
BS EN ISO 14001 is fully compatible with ISO 9001, the world's most established quality framework. BS EN ISO 14001 includes a table that compares each section of both standards and outlines cross-over and correspondence between the standards.