Health & Safety
Show me:
Respiratory Equipment - Open-Circuit Umbilical Supplied Compressed Gas Diving Apparatus - Part 1: Demand Apparatus
BS EN 15333-1:2008
Author:

BSI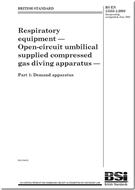 Add to Basket
BS EN 15333-1 specifies minimum requirements for demand surface supplied and demand surface oriented diving apparatus to ensure a minimum level of safe operation of the apparatus.
BS EN 15333-1 applies to the following:
Depths between 0 m and 50 m for apparatus using air, oxygen or oxygen in nitrogen mixtures

Depths between 0 m and 60 m for apparatus using oxygen, oxygen and helium or oxygen, nitrogen and helium gas mixtures

Water temperatures between 4 °C and 34 °C or outside these temperatures as specified by the manufacturer.
The requirements of this BS EN 15333-1 should take account of the interaction between the wearer, the apparatus, and where possible the environment in which the apparatus is likely to be used.
BS EN 15333-1 does not cover saturation diving systems, mini bell systems or apparatus used for oxygen decompression only.
Find similar publications here: