Fire
Show me:
Fire Tests On Building Materials And Structures. Guide To The Principles, Selection, Role And Application Of Fire Testing And Their Outputs
BS 476-10:2009
Publisher:

CHX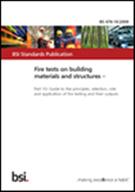 Add to Basket
Fire in buildings puts lives at risk either directly, by exposure to the fire conditions, or indirectly, as a result of the response of the building to exposure to fire.
BS 476-10 describes the general principles and application of the methods in the series of standards for fire testing. Fire tests are used extensively in support of national fire safety legislation. The outputs of these tests may also be used, with caution, to support a fire safety strategy that has been generated using the functional approach to regulations.
Any of the tests used to characterize the reaction to fire, or fire resistance of a material/ construction, only represents one of many possible fire scenarios.
Outputs from fire tests are used in the assessment of fire risks and, similarly to using the results in the context of a fire safety strategy, the limitations on the validity of the results need to be considered when applying them.
Find similar publications here: