Customer Services
Show me:
Customer Contact Centres - Requirements for service provision
BS EN 15838:2009
Author:

BSI

Publisher:

BKN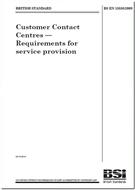 Add to Basket
Customer contact centres (CCCs) have an important role in the interaction between organizations and their customers. They vary in their levels of service quality and consumer protection, and work to many different standards and levels of efficiency.
BS EN 15838 is the standard that sets out service requirements for contact centres irrespective of the service sector with a focus on the operational aspects of running a contact centre. The standard applies to both in-house customer contact centres as well as outsourced centres.
Implementing the standard should improve both customer service and business success. It is designed to achieve customer, staff and stakeholder satisfaction. It should create a culture of continuous improvement and foster increased understanding of the value of the customer contact centre.
Whilst the standard is voluntary, it aims to bring the following advantages to those that adopt it:
Improvements in customer contact quality, which can give a competitive edge to the organization and avoids the risk of customer criticism about poor service or service failure

Cost efficiencies through better processes and a better understanding of the customer contact service, whilst maintaining quality outcomes and effectiveness

Improvements in staff retention through understanding and valuing the staff contribution to customer service and outcomes

Customer satisfaction.
Find similar publications here: