Customer Services
Show me:
Quality management - Customer satisfaction - Guidelines for dispute resolution external to organizations
BS ISO 10003:2007
Author:

BSI

Publisher:

BKN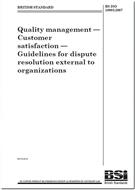 Add to Basket
BS ISO 10003:2007 provides guidance for organizations to plan, design, develop, operate, maintain and improve effective and efficient external dispute resolution for product-related complaints. Dispute resolution gives an avenue of redress when organizations do not remedy a complaint internally. Most complaints can be resolved successfully within the organization, without the need for further time-consuming and more adversarial procedures.
Implementation of BS ISO 10003 can:
provide flexible dispute resolution that, in comparison with court-based processes, can be less expensive, easier and quicker, especially in disputes across borders

help to enhance customer satisfaction and loyalty

provide a benchmark against which individuals and organizations can evaluate claims by organizations and providers that they operate in an effective, efficient and fair manner

help to inform potential users of dispute resolution about the conditions of access, cost and the legal consequences

enhance the ability of an organization to identify and eliminate causes of disputes

improve the way complaints and disputes are handled in the organization

provide additional information that can contribute to improvement of the organization's processes and products

improve the organization's reputation or avoid damage to it

improve domestic and international competitiveness

provide confidence of fair and consistent treatment of disputes throughout the global marketplace.
Find similar publications here: