Biometrics
Show me:
Information Technology- Biometrics - Tenprint Capture Using Biometric Application Programming Interface (BioAPI)
BS ISO/IEC 29141:2009
Author:

British Standards Institute (BSI)

Publisher:

LBK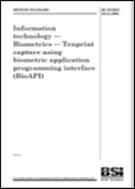 Add to Basket
BS ISO/IEC 29141 is the standard that specifies how a BioAPI application can interact with a BioAPI framework to support a tenprint capture (capture of the fingerprints of all ten fingers). It specifies and supports the deployment of large-scale identity management.and credentialing systems (which often require a tenprint capture as part of the identity vetting and background-checking process)
BS ISO/IEC 29141 provides additional standardization of fields (that are left undefined in BioAPI), in order to standardize the support for a tenprint capture, but is in all other respects a profiling of BioAPI to support the tenprint capture. It defines a biometric data block format for carrying the data obtained from a tenprint capture. It specifies all the parameters, function calls, and other information needed by an application for the use of BioAPI in support of tenprint capture. It also specifies the conformance requirements on a biometric service provider that supports tenprint capture using BS ISO/IEC 29141.
BS ISO/IEC 29141 specifies requirements for the use of ISO/IEC 19784-1, as amended by ISO/IEC 19784-1/Amd. 1 (BioAPI) for the purpose of performing a tenprint capture operation. It specifies a BDB format that is used to interact with a BioAPI framework (and hence with BSPs) to support an application wishing to perform a tenprint capture. It also specifies a capture control block and a capture output block that conforming BSPs are required to support if they conform to this International Standard.
Find similar publications here: