HIV/AIDS
Show me:
Road Map for Surveillance and Monitoring of HIV Drug Resistance in the Western Pacific Region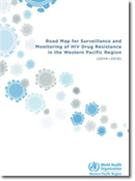 Add to Basket
The Road Map 2014-2018 provides a plan for specific and coordinated action to address the potential threat of HIV drug resistance emergence in countries in the Region.
In total, approximately US$ 5.69 million is required to implement the strategic approaches of the Road Map. While some priority actions are already under way, close collaboration among governments, national stakeholders, international partners and donors is required for successful implementation.
Find similar publications here: