Hospitals
Show me:
Patient Safety Workshop: Learning from Error
Author:

World Health Organization (WHO)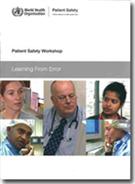 Add to Basket
This booklet which includes a CD-ROM should enable any health-care worker to facilitate a workshop on patient safety. This workshop explores how multiple weaknesses present within the hospital system can lead to error. It aims to provide all health-care workers and managers with an insight into the underlying cause of such events.
Although the workshop materials revolve around an error involving the inappropriate administration of vincristine, the underlying principles of why an error occurs are universal and the learning objectives can be applied in any error-related situation.
Find similar publications here: