Hospitals
Show me:
Communicating risk in public health emergencies: a WHO guideline for emergency risk communication (ERC) policy and practice
Corporate Author:

World Health Organization

Publisher:

WHO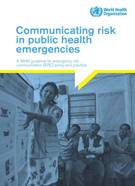 Add to Basket
The recommendations in these guidelines provide overarching, evidence-based guidance on how risk communication should be practised in an emergency. During public health emergencies, people need to know what health risks they face, and what actions they can take to protect their health and lives. Accurate information provided early, often, and in languages and channels that people understand, trust and use, enables individuals to make choices and take actions to protect themselves, their families and communities from threatening health hazards. The recommendations also guide countries on building capacity for communicating risk during health emergencies. These guidelines provide systems-focused guidance on: (i) approaches for building trust and engaging with communities and affected populations; (ii) approaches for integrating risk communication into existing national and local emergency preparedness and response structures, including building capacity for risk communication as required of all WHO Member States by the International Health Regulations (2005); and (iii) ERC practice - from strategising, planning, coordinating, messaging, channeling different methods and approaches of communication and engagement, to monitoring and evaluation - based on a systematic assessment of the evidence on what worked and what did not work during recent emergencies. These guidelines were developed for policy- and decision-makers responsible for managing emergencies, particularly the public health aspects of emergencies, and practitioners responsible for risk communication before, during and after health emergencies. Other groups expected to use these guidelines are: frontline responders; local, national and international development partners; civil society; the private sector; and all organizations, private and public, involved in emergency preparedness and response.
Find similar publications here: