Hospitals
Show me:
A guide to establishing a national haemovigilance system
Corporate Author:

World Health Organization

Publisher:

WHO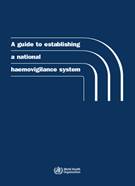 Add to Basket
Haemovigilance includes the monitoring, reporting, investigation and analysis of adverse events related to the donation, processing and transfusion of blood, and taking actions to prevent their occurrence or recurrence. The document aims to support countries in establishing effective national systems for haemovigilance throughout the transfusion chain. It provides policy guidance on establishing a haemovigilance system as part of the national blood and health systems, and includes technical information and guidance on the specific measures and actions which need to be taken to implement a haemovigilance system. This document is intended for ministries of health; bodies responsible for policy-making on blood safety, such as national; blood commissions or councils; regulatory agencies; public health institutions; blood transfusion services, blood centres and plasma collection centres; hospitals, including hospital blood banks or health care facilities where transfusion takes place; blood donor organizations and other nongovernmental organizations involved in blood donor education and recruitment; patient groups; scientific and professional bodies; and, developmental partners and international organizations.
Find similar publications here: