Hospitals
Show me:
WHO Expert Committee on Biological Standardization: sixty-seventh report
WHO technical report series 1004
Corporate Author:

World Health Organization

Publisher:

WHO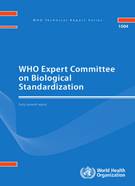 Add to Basket
This report presents the recommendations of a WHO Expert Committee commissioned to coordinate activities leading to the adoption of international recommendations for the production and control of vaccines and other biological substances, and the establishment of international biological reference materials. Following a brief introduction, the report summarises a number of general issues brought to the attention of the Committee. The next part of the report, of particular relevance to manufacturers and national regulatory authorities, outlines the discussions held on the development and revision of WHO Guidelines for a number of vaccines, blood products and related substances. Specific discussion areas included WHO guidance on the production and evaluation of the quality, safety and efficacy of monoclonal antibodies as similar biotherapeutic products (SBPs); blood and blood components as essential medicines; estimation of residual risk of HIV, HBV or HCV infections via cellular blood components and plasma; snake antivenom immunoglobulins; human pandemic influenza vaccines in non-vaccine-producing countries; and clinical evaluation of vaccines: regulatory expectations.
Find similar publications here: