Environment
Show me:
Protecting Health from Climate Change
Author:

World Health Organization (WHO)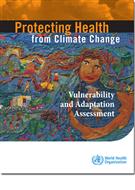 Add to Basket
There is now strong evidence that the earth's climate is changing rapidly, due mainly to human activities. Increasing temperatures, sea-level rises, changes in precipitation patterns and extreme events are expected to increase a range of health risks, from the direct effects of heat-waves, floods and storms, to more suitable conditions for the transmission of important infectious diseases, to impacts on the natural systems and socioeconomic sectors that ultimately underpin human health. Much of the potential health impact of climate change can, however, is avoided through a combination of strengthening key health system functions and improved management of the risks presented by a changing climate.
The critical first step in this process is to carry out a vulnerability and adaptation assessment. This allows countries to assess which populations are most vulnerable to different kinds of health effects, to identify weaknesses in the systems that should protect them, and to specify interventions to respond. Assessments can also improve evidence and understanding of the linkages between climate and health within the assessment area, serve as a baseline analysis against which changes in disease risk and protective measures can be monitored, provide the opportunity for building capacity, and strengthen the case for investment in health protection.
WHO has responded to this global demand by building on past guidance and technical tools to outline a flexible process for vulnerability and adaptation assessment. In 2009, the WHO Regional Office for the Americas and WHO prepared draft guidance for this process, which was pilot tested in studies across all WHO Regions. In July 2010, representatives of ministries of health from 15 countries came together in Costa Rica with WHO and subject area experts to share their experiences and provide feedback on how to improve the guidance for the conduct of vulnerability assessments.
This document is the result of this process. It is intended not as a final, definitive guide but as an important part of an evolving set of resources that will support effective and evidence-based action to protect health from climate change.
Find similar publications here: