Child Health
Show me:
Action Plan for Healthy Newborn Infants in the Western Pacific Region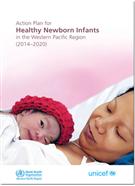 Add to Basket
A newborn infant dies every two minutes in the Western Pacific Region. Some 230 000 newborn infants die each year. This is unacceptable on any terms, but doubly unacceptable when the knowledge and tools exist to save 50 000 newborn infant lives annually. Under-five mortality has been reduced by two thirds in the last two decades, but this is largely because interventions have reduced the risks and improved the treatment for children who survive the neonatal period.
This Regional Action Plan identifies bold steps that can be taken to provide all newborn infants with a set of appropriate health-care interventions. WHO Western Pacific Region and UNICEF East Asia and Pacific Region are committed to supporting national action based on the Regional Action Plan. It shows how governments, United Nations agencies, and other stakeholders can contribute to a healthy start for every newborn infant in the Region.
Find similar publications here: