Child Health
Show me:
Guidelines on Neonatal Seizures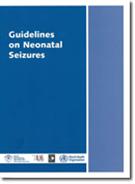 Add to Basket
Neonatal seizures represent one of the most frequent neurological events in newborn infants, often reflecting a variety of different pre-, peri-, or postnatal disorders of the central nervous system (CNS). They are also a common manifestation of metabolic abnormality in newborn period and often represent the first sign of neurological dysfunction in neonates. They may be symptomatic or cryptogenic, herald subsequent epilepsy, can be associated with potential morbidity and mortality, and may be used as a factor in considering long-term prognosis. Despite the enormous clinical significance of these events, many aspects of their management are not well supported with evidence- based recommendations.
'Guidelines on Neonatal Seizures' is intended to be of use for neonatologists, paediatric neurologists, paediatricians, general practitioners, nurse practitioners, nurses and other health professionals who may be in contact with infants experiencing seizures within the first 28 days of life (age up to 44 weeks post-conception). The guidelines are framed so as to be applied by health care providers practicing in a wide range of health care facilities, from those with limited resources to tertiary care centres.
Find similar publications here: