Child Health
Show me:
Developmental Difficulties in Early Childhood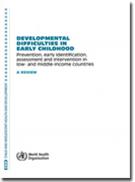 Add to Basket
Despite long experience in fighting childhood illness and mortality, health care providers in LAMI countries face new challenges in promoting child development. There is, nevertheless, a wealth of information on this topic, generated by researchers and clinicians working in resource poor conditions. This review therefore compiles the wealth of information that has already accumulated in a systematic framework that can be used by health care providers in LAMI countries.
In this review, the term 'developmental difficulties' is used to refer to a range of difficulties experienced by infants and young children, including developmental delay in the areas of cognitive, language, social-emotional, behavioural and neuro motor development. It includes information from low- and middle-income countries on the conceptualization, epidemiology, prevention, detection, assessment and early management of the broad spectrum of developmental risk factors and developmental difficulties in children aged 3 years and under.
Find similar publications here: