Child Health
Show me:
Global Tuberculosis Control 2009
Epidemiology, Strategy, Financing
Author:

World Health Organization (WHO)

Publisher:

WHO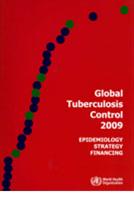 Add to Basket
This report presents WHO's latest assessment of the epidemiological burden of TB (numbers of cases and deaths), as well as progress towards the 2015 targets for global TB control that have been established within the content of the Millennium Development Goals (MDGs).
Global Tuberculosis Control includes a thorough analysis of implementation and financing of the WHO's Stop TB Strategy and the Stop TB Partnership's Global Plan to Stop TB. In combination, it is these two strategies that have set out how TB control needs to be implemented and funded to achieve 2015 targets.
The report gives particular attention to the period 2006-2009, but selected epidemiological, implementation and financial data are presented for previous years as well.
Key features:
Epidemiology

Goals, targets and indicators for TB control

Improving measurement of progress towards the 2015 impact targets

Strategy

Addresses TB/HIV, MDR-TB and the needs of poor and vulnerable populations

Financing.
Bringing together data reported by 196 out of 212 countries and territories in 2008, as well as data collected from these countries in previous years, this publication is the definitive source of information about the national and international response to the worldwide TB epidemic.
Find similar publications here: