Education
Department for Education: Accountability and Oversight of Education and Children's Services
HC 1957, Eighty-second Report of Session 2010-12 - Report, Together with Formal Minutes, Oral and Written Evidence
Author:

House of Commons - Committee of Public Accounts

Publisher:

TSO (The Stationery Office)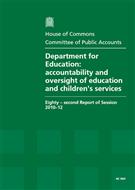 Add to Basket
'Department for Education: Accountability and Oversight of Education and Children's Services (HC 1957)' looks at how the Department for Education is distributing £56.4 billion in 2011-12 to schools, local authorities and other public bodies for the delivery of education and children's services in England.
The Department has set out how it intends to provide Parliament with assurance about the regularity, propriety and value for money in an Accountability System Statement of which the Committee has now seen three drafts.
Responsibility for value for money is shared by the Department with schools, academy trusts, local authorities, the Young People's Learning Agency (YPLA) and the Department for Communities and Local Government. However, the Statement does not yet clearly describe the specific responsibilities of each body, how these will interact, or how the Department will assess value for money across the entire education system.
The Department relies on local authorities and the YPLA to exercise financial oversight over their schools and academies. However, oversight is currently weak and could worsen as authorities reduce the resources they devote to overseeing their schools.
There are also concerns about whether the YPLA will have the right skills, systems and capacity to oversee the rapidly increasing numbers of academies expected in coming years.
More consistent requirements for data and data returns must be applied to all schools so that academic and financial performance can be benchmarked, and all schools can be held accountable.
The Department needs to enforce these requirements more stringently, particularly given the previous problems with the lack of compliance.

Related titles:
Find similar publications here:

Show all Subjects & Categories