BRC Global Standard for Storage and Distribution: Issue 2
Print (English Edition)
Author:

British Retail Consortium (BRC)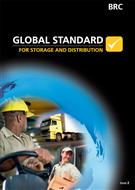 Add to Basket
The new, updated Global Standard for Storage and Distribution: Issue 2 will replace Storage and Distribution: Issue 1 for all audits from March 2011. The Standard provides certification for the section of the supply chain between BRC Standards for the manufacture of food, packaging and consumer products and the end user of these products, the retailer/food service company.
Aimed at companies involved in the storage and distribution of goods, the new Standard represents a substantial upgrade to Issue 1 and builds upon experience, with a new layout, simpler presentation and clearer explanation of requirements. The Standard is designed to ensure best practice in the handling, storage and distribution of products and to promote continuous improvement in operating practices.
The updated Standard includes the audit requirements, scheme rules and background to the Standard and provides the basis for an accredited certification of sites storing and/or distributing food, packaging and consumer products. It also enables certification of sites that wholesale products or carry out a range of contracted services.
It is a requirement that all suppliers undergoing a BRC Storage and Distribution audit have an official, authorised copy of this Standard.
Key features:
New layout with Storage and Distribution modules combined to form a core module in eight logical chapters - reducing the complexity and duplication in issue 1

Risk-based approach to compliance when applying the standard to handling consumer products and packaging

Greater clarity on expectations for product handling and vehicle operations

New section on management commitment - clearly recognising the importance of this in achieving certification

Additional contracted services - recognising the increased range of services now provided for customers

Clearer guidelines on auditing multi-site distribution companies

Audit frequencies and processes for corrective action review based on performance.