BS 9991:2011 Fire Safety in the Design, Management and Use of Residential Buildings - Code of Practice
Author:

British Standards Institution (BSI)
Add to Basket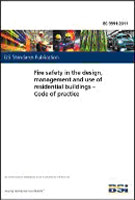 BS 9991:2011 Fire Safety in the Design, Management and Use of Residential Buildings - Code of Practice gives recommendations and guidance to achieve reasonable standards of fire safety for all people in and around:
Dwellings (single-family dwelling houses, self-contained flats or maisonettes)

Residential accommodation blocks (e.g. for students or hospital staff), with individual bedrooms and the provision of kitchen/sanitary facilities constructed within a fire compartment, accommodating not more than six persons

Sheltered housing and extra care housing
This standard is not applicable to hotels, caravans/mobile homes, hospitals, residential care/nursing homes, places of lawful detention, hostels or houses of multiple occupancy.
BS 9991:2011 is applicable to the design of new buildings, and to the material alterations, extensions and material change of use of an existing building. It also provides guidance on the ongoing management of fire safety throughout the entire life cycle of the building, including guidance for designers to ensure that the overall design of a building assists and enhances the management of fire safety. It can be used as a tool for assessing existing buildings, although fundamental change in line with the guidelines might well be limited or not practicable.

If you're interested in this, you might also be interested in...

Show all Subjects & Categories