Nufarm and AH Marks: A Report on the Completed Acquisition by Nufarm Crop Products UK Limited of AH Marks Holdings Ltd
Author:

Competition Commission

Publisher:

TSO (The Stationery Office)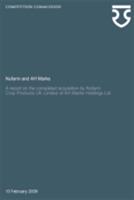 Add to Basket
On 29 August 2008, the Office of Fair Trading (OFT) referred to the Competition Commission (CC), for investigation and report, the completed acquisition of the phenoxy herbicides business of AH Marks Holdings Ltd (AH Marks) by Nufarm Crop Products UK Limited, a wholly-owned subsidiary of Nufarm UK Limited whose ultimate parent company is Nufarm Limited.
The OFT's reference required the CC to determine whether a relevant merger situation had been created and if so, whether the creation of that situation resulted in a substantial lessening of competition (SLC) within any markets in the UK for goods or services. This is the CC's report on the completed acquisition of AH Marks by Nufarm Crop Products, together with an explanation of how they conducted their inquiry.
The report considers a number of influential factors in the acquisition, primarily the relevant products, the parties involved and the industry structure. It then continues to provide an outline of its findings and an assessment of the competitive effects of the merger, relevant customer benefits and remedies to mitigate or prevent any SLCs.
Key Features:
Relevant products, the parties and industry structure

The merger and relevant merger situation

The counterfactual

Market definition

Market entry

Buyer power

Competition between Nufarm and AH Marks before the merger

Assessment of the competitive effects of the merger

Conclusions and remedies

Appendicies.

Related titles:
» More Competition Commission Reports
Find similar publications here: