Health Committee
Show me:
Health Inequalities
HC 286-I, Third Report of Session 2008-09 - Volume I: Report, Together with Formal Minutes
Author:

House of Commons - Health Committee

Publisher:

TSO (The Stationery Office)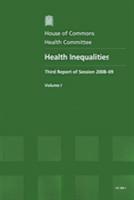 Add to Basket
The Government has made an explicit commitment to tackling health inequalities, involving a framework of specific policies underpinned by a challenging and ambitious target. Resources are being targeted to the neediest areas; the neediest Primary Care Trusts (PCTs) will receive 70% more funding than the least needy in 2009-10.
Although the health of all groups in England is improving, over the last ten years health inequalities between the social classes have widened - the gap has increased by 4% amongst men and by 11% amongst women - because the health of the rich is improving more quickly than that of the poor.
Health inequalities are not only apparent between people of different socio-economic groups, they also exist between different genders and ethnic groups. The elderly and people suffering from mental health problems or learning disabilities also have worse health than the rest of the population. The causes of health inequalities are complex, and include lifestyle factors such as smoking, nutrition, and exercise. There are also wider determinants such as poverty, housing and education.
This report, 'Health Inequalities (HC 286-I)', examines:
the extent and causes of health inequalities and policies to tackle them;

designing and evaluating policy effectively (there is little solid evidence on which to base policies);

funding for health inequalities;

specific initiatives (including health action zones and Sure Start);

the role of the NHS in tackling inequalities; and

action across other sectors and departments (including nutrition, health education in schools, the built environment, tobacco control).
Chapter eight of the report brings together all the recommendations and sets out a new policy for tackling health inequalities.
Find similar publications here: