Health Committee
Show me:
Childhood Obesity - Brave And Bold Action
HC 465, First Report of Session 2015-16 - Report, Together with Formal Minutes Relating to the Report
Author:

House of Commons - Health Committee

Publisher:

TSO (The Stationery Office)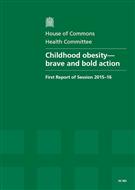 Add to Basket
The report 'Childhood Obesity - Brave And Bold Action (HC 465)' examines the Government's approach to the issue of obesity in children.
Treating obesity and its consequences is currently estimated to cost the NHS £5.1bn every year. It is one of the risk factors for type 2 diabetes, which accounts for spending of £8.8 billion a year, almost 9% of the NHS budget. The wider costs of obesity to society are estimated to be around three times this amount.
By contrast, the UK spends only around £638 million on obesity prevention programmes.
The evidence shows that information campaigns aimed at promoting healthier choices generally tend to help those who are already engaged with health, and may therefore only serve to widen health inequalities.
The report makes recommendations in nine different areas. No one single area offers a solution in itself, but there is a strong case for implementing changes in all of these areas.
These nine areas are:
(i) Strong controls on price promotions of unhealthy food and drink;
(ii) Tougher controls on marketing and advertising of unhealthy food and drink;
(iii) A centrally led reformulation programme to reduce sugar in food and drink;
(iv) Sugary drinks tax on full sugar soft drinks with all proceeds targeted to help those children at greatest risk of obesity;
(v) Labelling of single portions of products with added sugar to show sugar content in teaspoons;
(vi) Improved education and information about diet;
(vii) Universal school food standards;
(vii) Greater powers for local authorities to tackle the environment leading to obesity; and
(ix) Early intervention and further research into the most effective interventions.
If the Government fails to act, the problem will become far worse
Find similar publications here: