Health Committee
Show me:
After Francis: Making A Difference
HC 657, Third Report of Session 2013-14 - Report, Together with Formal Minutes, Oral and Written Evidence
Author:

House of Commons - Health Committee

Publisher:

TSO (The Stationery Office)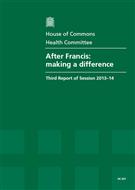 Add to Basket
The report 'After Francis: Making A Difference (HC 657)' gives the Health Committee's view on the principal recommendations of the 'Report of the Mid Staffordshire NHS Foundation Trust Public Inquiry' (see below), referred to as 'The Francis Report'.
'The Francis Report' recommended that the culture of the NHS has to change. The NHS needs to be an organisation in which an open dialogue about care quality is part of the natural culture, not a duty which only arises in cases of service failure.
Many who raise their concerns in the NHS at present risk serious consequences for their employment and professional status. However, disciplinary procedures, professional conduct hearings and employment tribunals are not the proper place for honestly held concerns about patient safety and care quality to be aired constructively.
The NHS standard contract imposes a duty of candour on all NHS providers. This is an essential principle, but it is not adequately understood or applied. It should mean that all providers create a culture which is routinely open both with their patients and their commissioners. The same principle should apply to commissioners so that they are routinely open and accountable to local communities. The Health Committee recommended this approach in 2011, which it repeats in this report. It should be a prime role of the Care Quality Commission to encourage the development of this culture within care providers, and of NHS England to develop the same culture within commissioners.
The Health Committee will in future work closely with the Professional Standards Authority to develop the accountability process for professional regulators in healthcare.
Find similar publications here: