Foreign Affairs Committee
Show me:
Human Rights Annual Report 2008
HC 557, Seventh Report of Session 2008-09 - Report, Together with Formal Minutes, Oral and Written Evidence
Author:

House of Commons - Foreign Affairs Committee

Publisher:

TSO (The Stationery Office)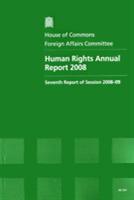 Add to Basket
This report 'Human Rights Annual Report 2008 (HC 557)', examines the Government's record in relation to securing the human rights of British citizens and others overseas and its work in promoting human rights in other countries.
The report covers:
rendition;

allegations of UK complicity in torture;

transfers of detainees in Iraq and Afghanistan; and

the regulation of private military and security companies.
It also provides an examination of the international human rights framework and human rights abuses in individual countries of concern including:
Burma;

China;

Colombia;

Iran;

Iraq;

North Korea;

Pakistan;

Russia;

Saudi Arabia;

Somalia;

Sri Lanka;

Sudan;

Zimbabwe; and

the UK's overseas territories.
The March 2009 'Annual Report on Human Rights 2008 (Cm. 7557)' (ISBN 9780101755726) from the Foreign & Commonwealth Office is available to buy separately, please see below.
Find similar publications here: