Foreign Affairs Committee
Show me:
Global Security: Israel and the Occupied Palestinian Territories
HC 261, Fifth Report of Session 2008-09 - Report, Together with Formal Minutes, Oral and Written Evidence
Author:

House of Commons - Foreign Affairs Committee

Publisher:

TSO (The Stationery Office)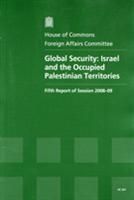 Add to Basket
The Committee welcomes the endorsement by Israeli Prime Minister Netanyahu of a two-state solution to the Israeli-Palestinian conflict but remains concerned about continuing settlement growth and the situation in Gaza.
The Committee's conclusions and recommendations include:
The Committee concludes that Hamas targets civilians in its attacks in Israel, while Israel's military action in Gaza in December 2008/January 2009 was disproportionate.

It welcomes the establishment of the UN Human Rights Council's inquiry into the conflict under Judge Goldstone.

The Government is correct to support Israel's goal of bringing rocket fire from Gaza to an end, but the regime of restrictions at the crossing points from Israel into Gaza helps to sustain the system of smuggling through tunnels under the Egyptian border, which contributes to the presence of illicit weaponry in Gaza.

It is unacceptable that Israel continues to deny unrestricted access for humanitarian assistance to Gaza.

The EU should make any 'upgrade' of its relations with Israel conditional on Israel halting practices which are prejudicial to the achievement of a two-state solution.

Movement, access and administrative restrictions on the West Bank continue to represent a major obstacle to Palestinian economic development.

There are few signs that the current policy of non-engagement with Hamas is achieving the Quartet's stated objectives and the Government should urgently consider engaging with moderate elements within Hamas.
The Committee also considers the role of Iran and the Arab League in relation to the Israeli-Palestinian conflict.
Find similar publications here: