Foreign Affairs Committee
Show me:
The UK's Relations with Hong Kong
HC 649, Tenth Report of Session 2014-15 - Report, Together with Formal Minutes Relating to the Report
Author:

House of Commons - Foreign Affairs Committee

Publisher:

TSO (The Stationery Office)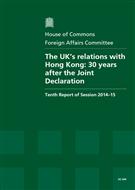 Add to Basket
The overall bilateral relationship between the UK and Hong Kong remains strong, especially in relation to economic and trade affairs, and the report 'The UK's Relations with Hong Kong (HC 649)' urges the UK to stand up for the principles enshrined in the Sino-British Joint Declaration.
In developing its plans to improve UK-Chinese economic relations, the UK Government should continue to take account of the special importance of Hong Kong as an economic partner in its own right. The Committee welcomes the UK Government's commitment to monitoring the implementation of the Joint Declaration, and its repeated insistence on the UK's legal right and moral obligation to ensure that the treaty is upheld.
However, the Foreign and Commonwealth Office's (FCO's) six-monthly reports on Hong Kong, which are meant to indicate the UK's position on developments, fall some way short. People in Beijing, Hong Kong and elsewhere look to the reports to ascertain the UK's views on Hong Kong, and the reports should express those views more clearly.
Find similar publications here: