Foreign Affairs Committee
Show me:
The FCO's Performance And Finances In 2013-14
HC 605, Ninth Report Session 2014-15 - Report, Together with Formal Minutes
Author:

House of Commons - Foreign Affairs Committee

Publisher:

TSO (The Stationery Office)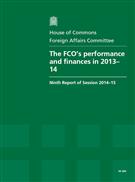 Add to Basket
The report 'The FCO's Performance And Finances In 2013-14 (HC 605)' covers changes to the budget of the Foreign and Commonwealth Office (FCO) and their effects on the Department's performance.
The cuts imposed on the FCO since 2010 have been severe and have gone beyond just trimming fat; capacity now appears to be being damaged. If further cuts are imposed, the UK's diplomatic imprint and influence would probably reduce, and the Government would need to roll back some of its foreign policy objectives.
The FCO's budget is a tiny element of Government expenditure, but the FCO makes disproportionate contribution to policy making at the highest level, including decisions on whether to commit to military action. The next Government needs to protect future FCO budgets under the next Spending Review.
Find similar publications here: