Lords Select Committees
Show me:
If at first you dont succeed ... takeover bids again with evidence 28th report, session 2002-03
House of Lords papers 2002-03 128
Sorry, this book is currently not available
Format:

Corporate Author:

Great Britain Parliament House of Lords Select Committee on the European Union

Author:

Scott of Foscote Richard Rashleigh Folliot Scott Baron chairman, Sub-committee E

Publisher:

TSO (The Stationery Office)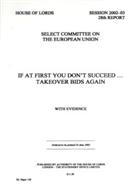 This report examines the proposed Takeover Directive, which lays down common standards and procedures for takeovers in the European Union. It finds that it is a balanced decision as to whether this of benefit to the UK. On the one hand the harmonisation would offer shareholder protection and open up markets for UK companies, but on the other hand it increases the opportunity of legal challenges being used as a tactic to obstruct bids. Overall the \Committee concludes in favour of the Directive, as long as some important changes are made.
Find similar publications here: