Work & Pensions Committee
Show me:
DWP's Commissioning Strategy and the Flexible New Deal
HC 59-I, Second Report of Session 2008-09 - Volume I: Report, Together with Formal Minutes
Author:

House of Commons - Work and Pensions Committee

Publisher:

TSO (The Stationery Office)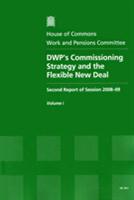 Add to Basket
The design and delivery of employment programmes are critical to the success of welfare reform and fundamental to the Government's aspiration of an 80% employment rate. The new Flexible New Deal (FND) programme will be part of the revised Joint Services Agreement (JSA) regime and will be delivered by large prime contractors who will work with subcontractors at a subregional level.
Prime contractors will be given longer contracts and have greater autonomy to design individualised support for customers who have been unemployed for more than 12 months. The Committee welcomes the move towards longer contracts and endorses the principles of the FND programme, and was impressed by the work that Jobcentre Plus staff are undertaking to prepare for the introduction of the new regime.
Yet there are significant concerns that fundamental flaws exist in the design of FND and the assumptions on which it is based. The Department for Work and Pensions (DWP) accepts that on-flows onto FND could be 300% higher than first indicated, with implications for resources at the providers and possible delays in implementing FND in some areas. The Committee urges DWP to confirm that changes will be made to the budget to reflect the massive increase in predicted onflows to FND.
It might not be possible for providers to meet the targets on which contractor payments are principally based and the Committee received evidence to suggest that the financial model for FND is flawed and its targets unrealistic.
It is crucial that DWP and other departments ensure that collaborative working with City Strategies, local authorities and other local Partners is facilitated at all levels if joint commissioning is to become a reality.
The accompanying 'DWP's Commissioning Stratefy and the Flexible New Deal - Volume II: Oral and Written Evidence (HC 59-II)' (ISBN 9780215528933) is available to buy separately, please see below.
Find similar publications here: