Welsh Affairs Committee
Show me:
Pre-legislative Scrutiny Of The Draft Wales Bill
HC 962, Fourth Report of Session 2013-14 - Report, Together with Formal Minutes Relating to the Report
Author:

House of Commons - Welsh Affairs Committee

Publisher:

TSO (The Stationery Office)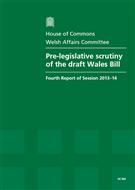 Add to Basket
The report 'Pre-legislative Scrutiny Of The Draft Wales Bill (HC 962)' examines the draft Wales Bill which was published following the recommendations of the Silk Commission in November 2012. It sets out to devolve tax and borrowing powers to the Welsh Government and National Assembly for Wales, to make changes to the electoral arrangements of the National Assembly for Wales, and to clarify and update the devolution settlement.
The Government hopes that the provisions in the draft Wales Bill will enable devolved governance in Wales to become more accountable. The cross-party Committee believes partial devolution of income tax to the Welsh Government should be put to the people of Wales in a referendum.
The cross-party Committee also has sympathy with the argument that the issue of 'fair funding' must be resolved before any income tax powers are devolved, so that Wales is not unfairly disadvantaged. The issue of how the size of the block grant from the UK Government is determined has long been criticised for providing an unfairly low allocation to Wales, and needs to be re-examined before 2015 General Election.
The National Assembly for Wales should have power to decide its own Assembly term length, rather than this being decided at Westminster. The Committee recommends the clause in the draft Bill which permanently extends the length of the Assembly from four to five years should be scrapped, and replaced with provisions that give the National Assembly the powers to determine the length of its own electoral term.
Find similar publications here: