Welsh Affairs Committee
Show me:
Proposed restructuring of the police forces in Wales: second report of session 2005-06 report, together with formal minutes, oral and written evidence
House of Commons papers 751 2005-06
Corporate Author:

Great Britain Parliament House of Commons Welsh Affairs Committee

Author:

Hywel Francis (chairman)

Publisher:

TSO (The Stationery Office)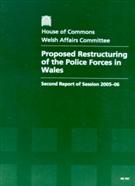 Add to Basket
The Committees report examines the proposed restructuring of the four police forces in Wales, in light of the recommendations of the HMIC review ("Closing the gap: a review of the fitness for purpose of the current structure of policing in England and Wales" available at http://www.inspectorates.homeoffice.gov.uk/hmic/inspect_reports1/thematic-inspections/closinggap05.pdf) published in September 2005. Issues discussed include: the timetable for restructuring and provision for consultation; strategic policing needs in Wales; funding aspects and the impact on neighbourhood policing; and governance issues. The reports findings include: criticism that the tight timescale established for the restructuring process limited the scope for debate within police forces and police authorities, and for public consultation; and concern that the Governments approach to police restructuring across England and Wales reflects a failure to take sufficient account of the unique political, geographic and cultural characteristics of Wales.
Find similar publications here: