Treasury Committee
Show me:
Financial Regulation: A Preliminary Consideration of the Government's Proposals
HC 430-I, Seventh Report of Session 2010-11 - Volume I: Report, Together with Formal Minutes
Author:

House of Commons - Treasury Committee

Publisher:

TSO (The Stationery Office)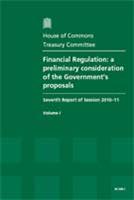 Add to Basket
'Financial Regulation: a Preliminary Consideration of the Government's Proposals (HC 430-I)' responds to the Government's initial proposals for radical change to economic policy-making and the way in which financial services are regulated in the United Kingdom.
The Governor of the Bank of England's concern is that 'people are trying to get to an end point too quickly'.
The Government's reforms are taking place at a time when major changes are being proposed internationally. It is important that the United Kingdom, with a particularly large share of the financial services activity of the EU, secures proper representation on the EU regulatory bodies.
The Government has set up an Independent Commission on Banking, to look at competition in banking, with a remit which could include radical structural reforms, due to report in the autumn. The Government also proposes to give a Financial Policy Committee (FPC), based in the Bank of England, power to monitor the system to ensure financial stability, and to take action when that stability is threatened. The Government further proposes to establish a prudential regulator, the Prudential Regulation Authority, as a subsidiary of the Bank of England. The Consumer Protection and Markets Authority (CPMA) will regulate the conduct of financial institutions.
The financial crisis has resulted in a sharp increase in the direct costs of regulation. The indirect costs have doubtless increased further, although they remain difficult to quantify. Both are borne by the consumer.
The Treasury Committee is concerned that the proposals say little about the cost of regulation, or about the non-bank sector. Regulatory changes should not be considered without proper evaluation of both their direct and indirect costs.
Find similar publications here: