Transport Committee
Show me:
Investing In The Railway
HC 257, Seventh report of Session 2014-15 - Report, Together with Formal Minutes Relating to the Report
Author:

House of Commons - Transport Committee

Publisher:

TSO (The Stationery Office)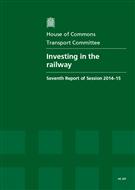 Add to Basket
The Transport Committee welcomes record investment committed to the 'classic' rail network but calls for greater regional balance in spending, according to the report 'Investing in the Railway (HC 257)'.
Network Rail must regain the confidence of passengers following recent disruption. The Committee calls for the Government to take responsibility for rolling stock, to address general shortages and ensure there will be sufficient trains to run on newly-electrified lines.
The Committee also concluded:
Record levels of funding show a welcome commitment to 'classic' rail but this should be set in a longer-term strategic plan for the rail network, which ties into a wider transport strategy.

The overrunning Christmas engineering works were unacceptable.

Network Rail must have adequate contingency plans. They must also work with Passenger Focus and train operating companies to improve communication with passengers when engineering works fail.

In the light of the change of status of Network Rail, the Office of Rail Regulation (ORR) must reconsider whether fining a public sector body remains an effective means for the regulator to exert control.

Greater transparency is essential around rail spending. Criteria used to allocate spending should be published.
Find similar publications here: