Transport Committee
Show me:
Rail Fares and Franchises
HC 233, Eighth Report of Session 2008-09 - Report, Together with Formal Minutes, Oral and Written Evidence
Author:

House of Commons - Transport Committee

Publisher:

TSO (The Stationery Office)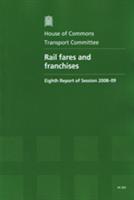 Add to Basket
In this report, 'Rail Fares and Franchises (HC 233)', the Committee concludes that the fare increases, service reductions and staff cuts seen in 2009 are unacceptable practices that the Government must take steps to prevent. Fare rises of more than 11% on some routes, when inflation is close to zero, are not acceptable.
In its key recommendations on franchises the Committee calls for:
Government to attempt different forms of franchising, keeping the 'lucrative' East Coast Main Line franchise in the public sector to provide a benchmark against which to compare the performance of other types of franchises.

Franchises to be let on a longer term basis, which will remove perverse incentives that currently encourage short-term cost-cutting measures that reduce service quality.

All franchises to be made more passenger-focused over time.
With regard to fares, the Committee:
(a) criticises the six-month gap between the benchmark retail price index (RPI) and subsequent fare rises because it permits price hikes at the worst time and increases out of all proportion to trends in the real economy;

(b) concludes that fare structures remain too complex; and

(c) welcomes the Secretary of State's confirmation that the RPI+1% formula will apply for 2010 fares, which means that regulated fares could decrease next year.
Find similar publications here: