Transport Committee
Show me:
Local Authority Parking Enforcement
HC 118, Seventh Report of Session 2013-14 - Report, Together with Formal Minutes, Oral and Written Evidence
Author:

House of Commons - Transport Committee

Publisher:

TSO (The Stationery Office)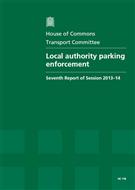 Add to Basket
The use of parking charges and fines specifically to raise revenue by local authorities is neither acceptable nor legal, the report 'Local Authority Parking Enforcement (HC 118)' discusses how annual parking accounts would allow the public to see how much local revenue is derived from the enforcement of fines, and what proportion of this comes from on or off street parking charges.
It is right that parking charges should be determined locally, but hard to justify fines that substantially exceed penalties for more serious offences like speeding.
The Committee recommends that the Department for Transport's statutory guidance should stipulate that local authorities implement a 'grace period' of five minutes after the expiry of paid-for time on any paid parking, before enforcement officers issue a Penalty Charge Notice (PCN). The Guidance should be clarified and updated, particularly in relation to rules for loading and unloading.
A 25% penalty charge discount should also be introduced for motorists who pay within seven days of losing any appeal to a parking tribunal. Local authorities currently offer a 50% discount if motorists pay their penalty charge within 14 days, but this is not available to motorists who appeal to a tribunal. Motorists should also not have to appeal against PCNs where tribunal adjudicators have repeatedly identified a problem - such as poor signage. Adjudicators should also be given powers to allow appeals where local authorities fail to follow statutory guidance concerning the use of cameras.
While businesses cannot be completely exempt from parking restrictions, local authorities must also ensure that the need to restrict parking and manage congestion does not stifle the ability of businesses to trade and help grow the economy.
Find similar publications here: