Transport Committee
Show me:
Novice Drivers
HC 355-I, Seventh Report of Session 2006-07 – Volume I: Report, Together with Formal Minutes
Author:

House of Commons – Transport Committee

Publisher:

TSO (The Stationery Office)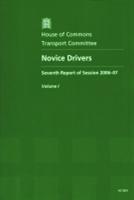 Add to Basket
Novice drivers – those with less than three years driving experience – are among the most vulnerable drivers on our roads, particularly in the first year after passing their test, with one research study finding that nearly one fifth of new drivers were involved in at least one crash within one year of passing their tests. 'Novice Drivers (HC 355-I)' examines a number of options designed to create a more structured approach to learning to drive, in order to help reduce road deaths and injuries amongst novice drivers and the victims of their inexperience.
Options include:
establishing a minimum learning period;

graduated driver licensing so that there might be a restriction on driving at night for a certain period after passing a test or a limit on the car engine size allowed; and

driver education schemes designed to influence people at a young age to address the development of over-confident attitudes.
The Committee's report also considers the role of the insurance industry and measures to make traffic law enforcement more effective, particularly for disqualified and unlicensed drivers.
Recommendations include:
The introduction of a minimum 12-month learning period, thereby establishing the minimum age for holding a full driving licence at 18 years, in line with most European countries.

The need to evaluate the enforceability of two blood alcohol concentration limits, one for novice drivers and one for the general driving population.

The need for further research to understand the scale and nature of the crash involvement of novice drivers, as distinct from young drivers.

Reforming the driver training and testing framework including a mandatory continuous professional development programme for all driving instructors.
The accompanying 'Novice Drivers – Volume II: Oral and Written Evidence (HC 355-II)' (ISBN 0215035259) is available to buy separately, see below.
Find similar publications here: