Transport Committee
Show me:
The Government's motorcycling strategy: Government response to the Committee's fifth report of session 2006-07 eighth special report of session 2006-07
House of Commons papers 698 2006-07
Corporate Author:

Great Britain Parliament House of Commons Transport Committee

Author:

Gwyneth Dunwoody (chairman)

Publisher:

TSO (The Stationery Office)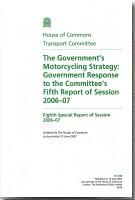 Add to Basket
The Government's Motorcycling Strategy was published in February 2005, with the aim of facilitating motorcycling as a choice of travel within a safe and sustainable transport framework. It had a strong focus on safety including provision on the highway, including road design and maintenance; encouraging safer bike design; promoting correct helmet fitting; and improving rider training. This document sets out the Government's response to the Committee's report (HCP 264, session 2006-07; ISBN 9780215033406) published in March 2007.
Find similar publications here: