Transport Committee
Show me:
The New National Boatmasters' Licence
HC 320-I, Sixth Report of Session 2006-07 – Volume 1: Report, Together with Formal Minutes
Author:

House of Commons – Transport Committee

Publisher:

TSO (The Stationery Office)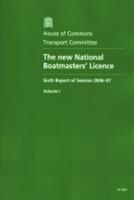 Add to Basket
The regulations introducing the new National Boatmasters' Licence has proved to be controversial, with opposition being led by the Company of Watermen and Lightermen of the River Thames, who think it will lower the high standards they have previously maintained. Although they are not alone in their objections, the Thames is the busiest and most complex inland waterway in the UK and can be extremely challenging.
In addition, there is a problem in the scope of a European Union (EU) Directive on the harmonisation in inland waterway standards which, unexpectedly, might also apply to the UK. In this report, 'The New National Boatmasters' Licence (HC 320-I)', the Committee conclude that the Government should suspend the introduction of the new licence until all the issues have been resolved.
The accompanying 'The New National Boatmasters' Licence – Volume 2: Oral and Written Evidence (HC 320-II)', ISBN 0215034252, is available to buy separately (see below).
Find similar publications here: